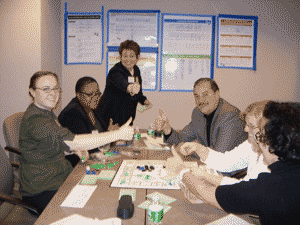 Leadership training needs to incorporate the hard financial realities of today's budget-cutting and cost control. With that in mind, you may well want to consider our Profit & Cash® financial literacy workshops for medical centers, a team learning system, a proven business simulation-game to help clinical managers better manage and balance the budget with positive employee and patient outcomes.
The Workshop teaches employees basic financial concepts involved in running a medical center… it helps them understand their center's financial goals and how financial reports are like a company's scoreboard. And it includes balancing of financial metrics with non-financial metrics.
In a fun, non-competitive, high-energy environment they learn how they contribute to medical centerobjectives such as Margins, Cash on Hand, and Patient Satisfaction.
Decision cards create both strategic and tactical discussions, and you can choose the mix that you want to teach.
Once they have sharpened their basic financial knowledge, participants are better prepared to anticipate the financial implications of the day-to-day decisions they make. They are able to mold those decisions to improve the overal financial performance of their department.
We partnered with Adventist HealthCare in Rockville, Maryland to develop our Medical Center workshop to help employees grasp the financial realities of their jobs. Nine months of careful development with a design team of nurses, administrative staff, and CFOs honed this product into an advanced learning tool. We can give you solid reference attesting to the efficacy of the workshop — with hospitals like Allegiance Health in Michigan. The HFMA journal published an article about the workshop in January, 2008.
We have been in the financial literacy workshop business for seventeen years, we present games for many different industries, and our client list has many names with which you are familiar.
We offer the workshop in half-day and full-day versions, and we offer site licenses so you can continue the training with new hires and people who are promoted.