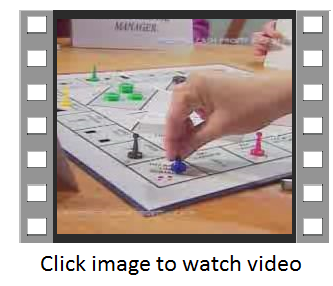 How many of your employees really understand how their business decisions impact the all-important bottom line?
The challenge is to teach them to think like owners.
Our Profit & Cash® Workshops are a unique learning experience. They utilize an interactive team approach as players "run" their own company or medical center and learn accounting and finance using the best principles of accelerated learning.
We offer it in these versions as well as custom versions:
Home Health
Manufacturing (includes inventory)
General business/service
Insurance
Utilities
Many more
As employees begin to grasp the critical concepts which ultimately determine your company's success, they will better understand how basic business decisions are made… and they will recognize how their daily contributions directly impact business results.



 Towards the end of an 8 month coaching coarse, participants are lead through a 3 hour module on business acumen. Their knowledge is varied from veteran CEO's/consultants to the not too numbers savvy. Participants all have a role and they enjoy the intensive accelerated learning process.


Profit & Cash® Highlights:
Teaches business basics which helps each employee understand the organization's financial objectives.
Gives participants a chance to make the kinds of business decisions that affect the company's success.
Provides a stimulating, engaging and fun-filled educational event time after time!
Enhances team-building and cross-functional training.
May be customized to your industry — some 20 versions already exist, ranging from insurance to manufacturing.
The game is played on a colorful and engaging board with dice, pawns, chips, draw cards and score sheets.


Contact us for more information.